LNG price shift a 'huge risk' for Canadian exports
Japanese trade minister calls to sever price link between oil, LNG
By Jeff Lewis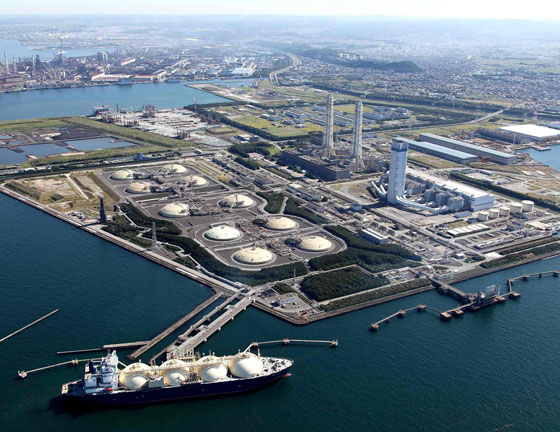 Japan is taking a hard look at the pricing mechanism that underpins the Asia-Pacific market for liquefied natural gas (LNG), raising fresh risks that North American export projects could be jeopardized.
Yukio Edano, Japan's trade minister, this week told LNG suppliers in Tokyo that a "paradigm shift" in the way the commodity is priced – traditionally crude-based, with a reference to the Japan Customs Cleared Price – is needed to rein in his country's soaring energy costs, The Australian reported. (Note: article is subscriber only).
Japan has increasingly turned to bulk cargoes of the fuel (the Futtsu power plant is pictured above; photo by TEPCO) to offset power loses following the Fukushima nuclear disaster.
The minister's call to revisit the oil-indexed price for LNG carries big implications for Canadian export ventures. It comes one week after Natural Resources Minister Joe Oliver spoke at a producer and consumer conference in Japan, where he said Canada could deliver up to 9 billion cubic feet per day of fresh supplies to Japanese power plants.
Five liquefaction plants are proposed for Canada's West Coast. Two have 20-year export licenses; all of them are counting on premium prices in Asia-Pacific markets to justify the multibillion-dollar costs of building export infrastructure.
The erosion of the hard link between LNG and oil prices, as well as the gradual evolution of a spot market for the fuel, "is the largest commercial risk" that North American export projects face, said Ken Medlock, head of the natural gas program at Rice University's Baker Institute.
Long-term sales deals could be difficult to secure amid a global production boom in LNG, and as low-cost gas floods North American markets, he said.
From a Japanese point of view, the so-called revolution in shale gas "does change the nature of the way you negotiate for Australian supplies, for Middle Eastern supplies, for other Asia-Pacific supplies," Medlock said.
The Japanese move is not entirely novel. Market watchers have flagged the trend toward more gas-on-gas competition in select markets since long before the Fukushima disaster riled Japan's confidence in nuclear energy.
Maria van der Hoeven, executive director of the Paris-based International Energy Agency, said last month in Calgary that the three major regional markets – North America, Europe and Asia – will "converge more than they are doing now" as shale gas becomes a global supply source.
Shell, which has partnered with Korea Gas Corp., PetroChina and Mitsubishi Corp. on an export facility planned for Canada's West Coast, has also acknowledged that regional dynamics are changing.
In regulatory filings to Canada's National Energy Board, the company stops short of heralding the arrival of a global gas market. A market assessment submitted in support of its export application notes, however, that "there is a growing desire to explore alternative pricing mechanisms" other than oil-indexed LNG in Asia-Pacific markets.
Follow us on Twitter